Ginger is an AI writing assistant that helps correct texts and improve style. Besides grammar checking, Ginger also includes rephrasing and synonym functionality. It includes add-ins for various programs as well as school and business editions.

Offerings
Free version provides definitions and limited corrections
Premium version provides unlimited grammar checking corrections, synonyms, and sentence rephrasing
Does not have any enterprise plans
Reviews
Ginger has 1,600 ratings and 700,000+ users on their Chrome Web Store with an average rating of 3.7 stars out of 5 (as of May 2022)
Pros
Premium offering includes rephrasing through Ginger Rephraser
Includes advanced synonyms
Provides a Microsoft Office add-in
Provides translation between 40+ languages
Cons
Limited to just grammar checking as there is no snippets/macros or suggested responses tools
Limited functionality for teams; built mainly for personal use as there is no enterprise plan or dashboard analytics
Does not provide a style guide or tone prediction
Limited security certifications; does not provide HIPAA compliance or SOC 2 certification information
LanguageTool is a multilingual grammar and spell checker. It includes an open-source edition as well as a premium business edition. The key languages support included English, German, Spanish, French, and Portuguese.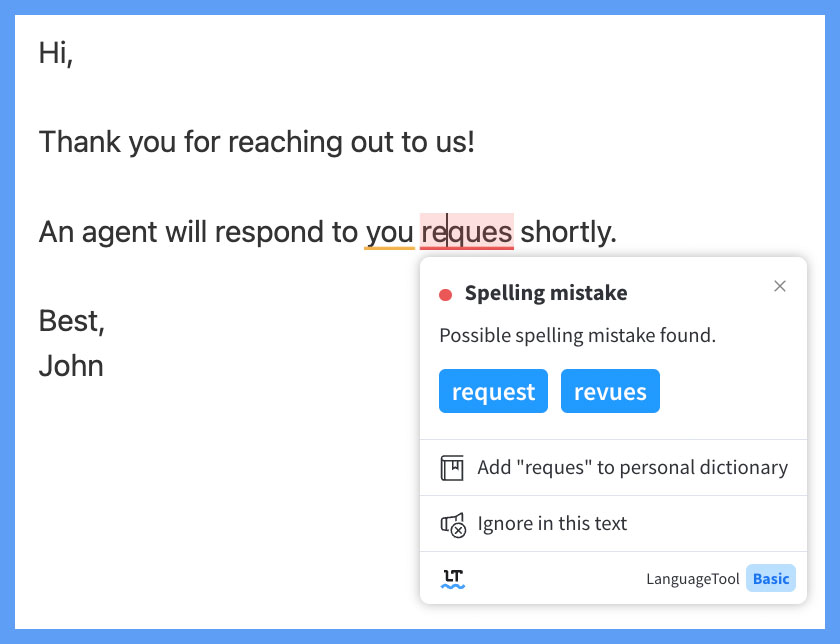 Offerings
Free version provides basic grammar, punctuation, and style checking
Premium version has enhanced grammar, punctuation, and style checking as well as suggestions to improve style and tone, add-in for Microsoft Word, and add-on for Google Docs
Enterprise version provides everything the premium version does along with user management
Reviews
LanguageTool has 7,370 ratings and 1,000,000+ users on their Chrome Web Store with an average rating of 4.8 stars out of 5 (as of May 2022)
Pros
Can detect of incorrect names and titles in e-mails as well as incorrect numbers
Supports multiple languages
Separately there exists an open-source offering
Cons
Free version only provides checking for 10,000 characters of text
Premium version only allows up to 100,000 characters per text field
Grammar checker has limited capabilities as it has rule-based recommendations
Not focused on business use cases